Aging signs, such as wrinkles, age spots, and skin sagging, can be managed with targeted skincare treatments.
Oral health, including tooth discoloration and gum disease, worsens with age but can be controlled with good dental care.
Aging causes hair loss, but treatments like minoxidil, 

finasteride

, and balanced nutrition can help manage it.
Embracing aging involves self-care, healthy lifestyle choices, and occasional medical intervention to maintain a youthful appearance.
As people age, their bodies undergo various natural changes that manifest as signs of aging. These transformations are the result of a combination of genetic and environmental factors. Primarily, they are due to the slowing down of your body's repair mechanisms. Over time, cells lose their ability to divide and regenerate, a process known as cellular senescence. According to a report by the National Institute on Aging, 75% of people over 20 years of age show visible signs of aging. Moreover, research published in the Journal of Investigative Dermatology suggests that environmental factors such as UV exposure can accelerate these signs, contributing to about 80% of visible facial aging signs.
As you grow older, you may notice changes in your appearance that were not present before. These are the signs of aging that you should keep an eye on. Here are a few you might have to worry about:
Facial Signs
Awareness of the signs of aging on your face is essential to maintaining your skin's health and youthful appearance. Early detection can lead to proactive measures, helping to mitigate the effects of aging and potentially delay the onset of certain aging signs. Moreover, it allows you to adopt a tailored skincare routine to address your concerns, enhancing your skin's resilience against environmental aggressors.
Wrinkle Formation
One of the most common signs of aging is the formation of wrinkles. These are lines and creases that form on your skin due to the breakdown of collagen and elastin fibers. To address this, consider incorporating products with retinoids, peptides, and antioxidants into your skincare regime. These ingredients stimulate collagen production and counteract damage caused by free radicals.
Age Spots
Age spots or liver spots typically appear on sun-exposed areas of the skin as flat, brown, gray, or black spots. They result from excess melanin production due to sun exposure or aging. To prevent and treat age spots, use a broad-spectrum sunscreen daily and consider treatments such as laser therapy, chemical peels, or topical creams that contain hydroquinone or kojic acid.
Skin Sagging
Skin sagging is another aging sign that results from loss of skin elasticity and gravity over time. Regular facial exercises, maintaining a healthy weight, and using skincare products that boost collagen and elastin production can help firm and lift sagging skin. Treatments such as radiofrequency therapy or facelift surgery may also be considered in severe cases.
Dental and Oral Deterioration
As people age, dental and oral health also tend to deteriorate. This decline is primarily due to natural aging, reduced saliva production, and cumulative wear and tear from years of chewing and grinding. The decrease in saliva can lead to dry mouth conditions, contributing to tooth decay and gum disease. Additionally, many older adults have receding gums, a condition that exposes the root surfaces of the teeth, making them susceptible to decay and sensitive to hot and cold.
Tooth Discoloration
Over the years, the outer enamel layer gets thinner with brushing, and more yellowish dentin shows through. Tobacco, caffeine, and certain types of food can also stain teeth, leading to yellow or brown discoloration.
Tooth Loss
Gum disease can also lead to tooth loss, a prevalent issue among older adults. Poor oral hygiene, smoking, or chronic diseases like diabetes can accelerate this process.
Dental Decay
The edges of fillings or areas of the tooth's root that receding gums have exposed can decay. Decay around the edges of fillings is common for older adults. Due to a lack of modern preventive dental care when they were growing up, they often have several dental fillings.
To maintain oral health as you age, it's essential to brush and floss regularly and visit the dentist for regular check-ups and cleanings. In cases of severe discoloration or tooth loss, cosmetic dental procedures can be considered to restore the appearance and function of the teeth. Quality veneers can cover up stains and fill in gaps, allowing you to maintain a healthy and youthful-looking smile.
Hair Loss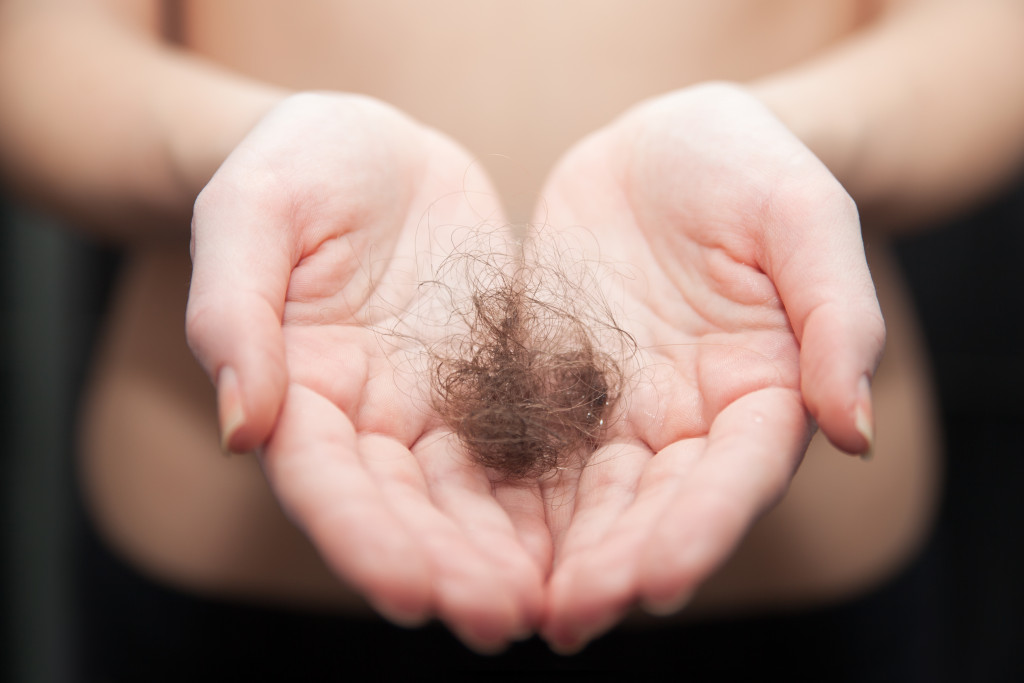 Hair loss is a significant sign of aging that can noticeably affect one's appearance. As people age, hair follicles gradually lose their ability to produce the amount and type of hair that was once typical for the individual. This can result in thinning hair, a receding hairline, or even baldness in certain areas. It's a natural process driven by genetic factors, hormonal changes, and decreases in the overall health and vitality of the hair follicle. For some, hair loss can lead to reduced self-confidence and increased self-consciousness about their appearance.
There are various ways to manage hair loss. Over-the-counter products such as minoxidil (Rogaine) can help stimulate hair growth, while prescription medications like finasteride (Propecia) can slow hair loss for some individuals. For those experiencing significant hair loss, surgical procedures such as hair transplants or scalp reduction can be considered. It's also beneficial to maintain a balanced diet rich in proteins, vitamins, and minerals that support healthy hair growth.
Lastly, stress management techniques, such as regular exercise and meditation, can help, as high stress levels exacerbate hair loss. Always consult with a healthcare provider or dermatologist to discuss the most suitable treatment options for your specific situation.
Final Thoughts
Aging is a natural and inevitable process that brings about many changes to our bodies, including our appearance. Keeping an eye on these signs of aging can help you detect them early and take proactive measures to address them. With proper self-care, healthy lifestyle choices, and medical interventions when necessary, it's possible to maintain a youthful appearance and feel confident in your skin as you age. Remember, aging gracefully is not about erasing all signs of aging but embracing them and taking care of yourself internally and externally.